Vegan Shoyu Ramen has a rich soy-sauce-based broth accented by sesame oil and black pepper. It's easy to make and versatile with different toppings.
Intro to Vegan Shoyu Ramen
I've done a bit of cooking different styles of plant-based ramen since starting the blog. Shoyu is such a classic style of ramen that I wanted to develop my own version of it.
Traditional shoyu ramen is characterized by a long-simmered clear chicken stock, the salty umami of the soy sauce, as well as some aromatics, including ginger, garlic, and toasted sesame oil.
My version is simpler (and admittedly less complex in flavor) and more accessible. My goal was to create a broth that had many of the same characteristics as the traditional version.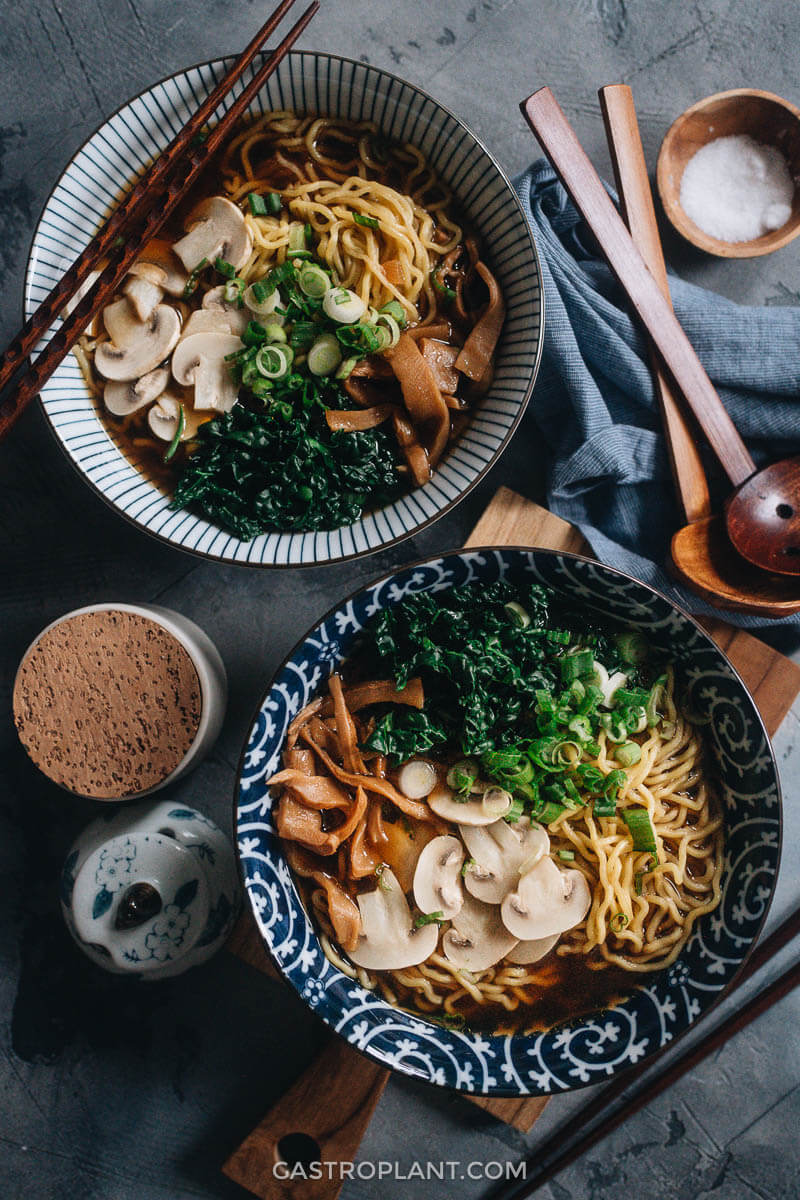 What is it like to cook vegan shoyu ramen?
There are two main parts to the recipe – preparing the broth and cooking the noodles and toppings. These two activities happen separate from each other so that we can get each component properly cooked.
Optional Fully Homemade Broth
You make the broth by simmering some kombu seaweed and dried shiitake mushrooms in a pot of vegetable stock. You can either use store-bought stock or make your own. If you do follow the recipe in that link, you can simmer the kombu and shiitake mushrooms in the broth along with the fresh veggies.
Comforting Toppings
I kept the toppings in this one simple – blanched kale, blanched mushrooms, classic menma, and green onion. I thought these toppings would be more comfort-oriented. If you'd like some more adventurous toppings, check out the shredded king oyster "chicken" in this recipe and the king oyster "scallops in this one.
Put it all together
When everything is ready – your broth is perfectly hot and seasoned with sesame oil and pepper, your noodles are perfectly cooked, and each of your toppings is just how you like it – you put them together in bowls however you like.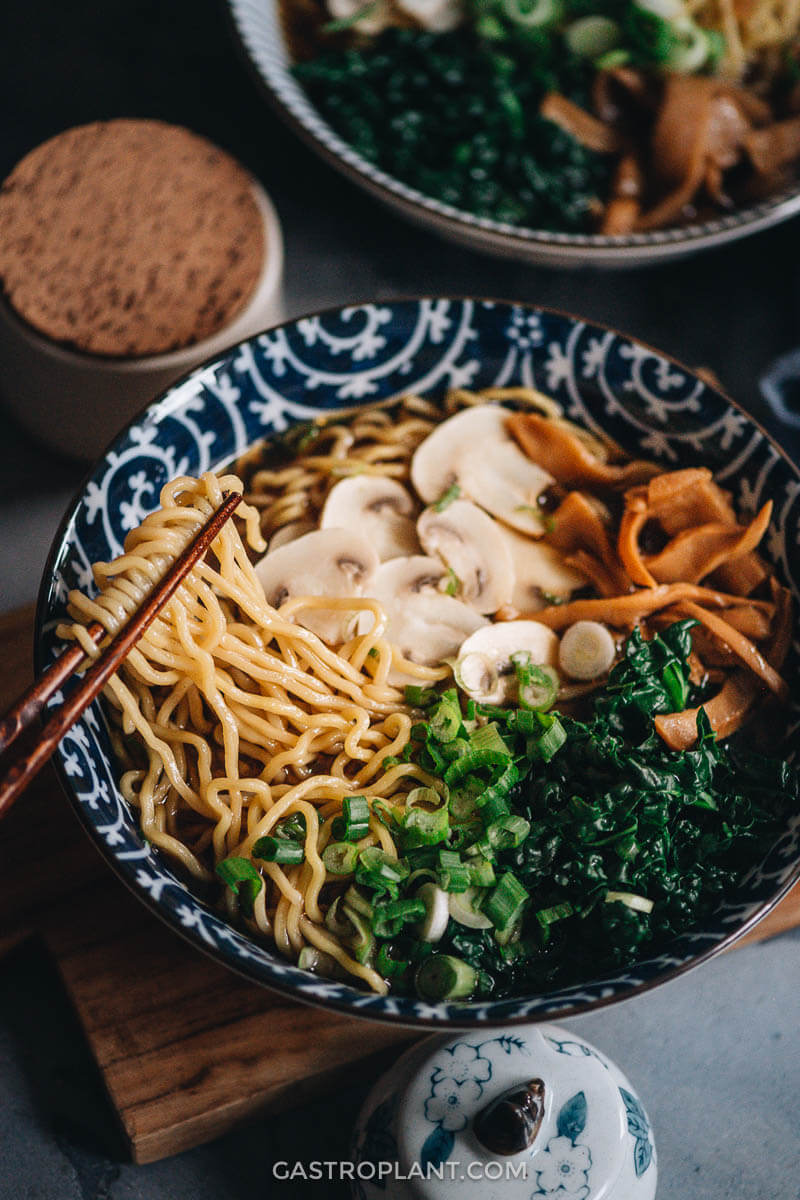 A word on the noodles
The ideal bowl of ramen has noodles that are cooked just to the point of being tender enough to not be crunchy. They should have a nice bouncy toothiness to them.
It's great if you can get fresh ramen noodles, such as those from Sun, which I use. The ones you find refrigerated or frozen at a Japanese market will probably be good, too. But I've used dried ramen and had great results as well.
More Plant-Based Ramen Styles
Tasty Sides to Accompany your Ramen
As always, if you try this recipe out, let me know! Leave a comment, rate it (once you've tried it), and take a picture and tag it @gastroplant on Instagram! I'd love to see what you come up with.
Print Recipe
Vegan Shoyu Ramen
Vegan Shoyu Ramen has a rich soy-sauce-based broth accented by sesame oil and black pepper. It's easy to make and versatile with different toppings.
Ingredients
2

servings fresh ramen noodles
Broth
6

cups

vegetable broth

2

dried shiitake mushrooms

1

piece

dried kombu seaweed

4x4 inches / 10x10 centimeters

1/2

cup

dried mushrooms

assorted

3 1/2

Tablespoons

soy sauce

1

Tablespoon

toasted sesame oil

Black pepper

to taste
Toppings
6

ounces

fresh mushrooms

sliced (170 grams)

2

cups

shredded kale

see note

Menma

1

green onion

chopped finely
Instructions
Combine the vegetable broth, dried shiitake mushrooms, kombu, and dried assorted mushrooms in a medium-sized pot. Bring to a simmer over medium-high heat, cover, and reduce to low. Simmer for at least 20 minutes to infuse the flavors of the mushrooms and seaweed.

While the broth is simmering, prepare the noodles and toppings in a separate pot. Cook the noodles according to the instructions - they should be just cooked and still quite chewy. They will continue to soften once served. When the noodles are ready, remove them from the water and set them aside.

If you are using the toppings suggested here, you can use the noodle-boiling water to blanch the fresh mushrooms and kale. The mushrooms will take 2-3 minutes (cook until tender) and the kale 1-2 minutes (cook until bright green).

Right before serving, remove the dried (now rehydrated) mushrooms and seaweed from the broth. You can either discard them or use them in a different dish. Stir the soy sauce, sesame oil, and black pepper into the broth.

Divide the noodles and broth between two large soup bowls. Top with mushrooms, kale, menma, and green onion. Serve immediately.
Notes
You may prefer to remove the ribs from the kale. They are tougher and more fibrous than the leaves.