Vegan Curry Ramen features rich and fragrant Japanese-inspired curry broth with a hint of spice. Includes baked tofu, roasted enoki mushrooms, and fresh spinach. Takes just 30 minutes.
An Introduction to Vegan Curry Ramen
This latest ramen recipe is a play on the classic Japanese dish, curry rice (kare raisu). The curry ramen broth is essentially a soup version of the curry rice gravy. It's creamy and well-balanced with a nice fragrance. It goes well with all sorts of savory toppings.
The toppings I've included here as examples are: baked tofu, roasted enoki mushrooms, fresh spinach, and a store-bought vegan chicken patty. The first three I chose because they are really simple to prepare and offer a good variety of texture and nutrition.
I added the vegan chicken patty as an homage to curry katsu, a common Japanese cutlet (or schnitzel) in curry gravy. The cutlet can absorb lots of curry broth while staying crispy, which just makes it fun to eat.
The Importance of Dashi in Japanese Curry
While this ramen is pretty easy and quick to make by itself, it benefits greatly from an ingredient that you'll need to make the night before – vegan dashi. Vegan dashi is a flavorful umami stock made from seaweed and dried shiitake and mixed mushrooms. It tastes deeply of the earth and the sea, in a good way.
By itself, the dashi is pungent, maybe too pungent. But mixed with curry, it's this earthy pedestal that boosts all the curry flavors and you don't really notice it.
You can use other vegetable broths instead of dashi, but the flavor of the finished curry won't be as full.
And don't be intimidated – the dashi really just needs to soak overnight in the fridge – there's no complicated cooking process for it.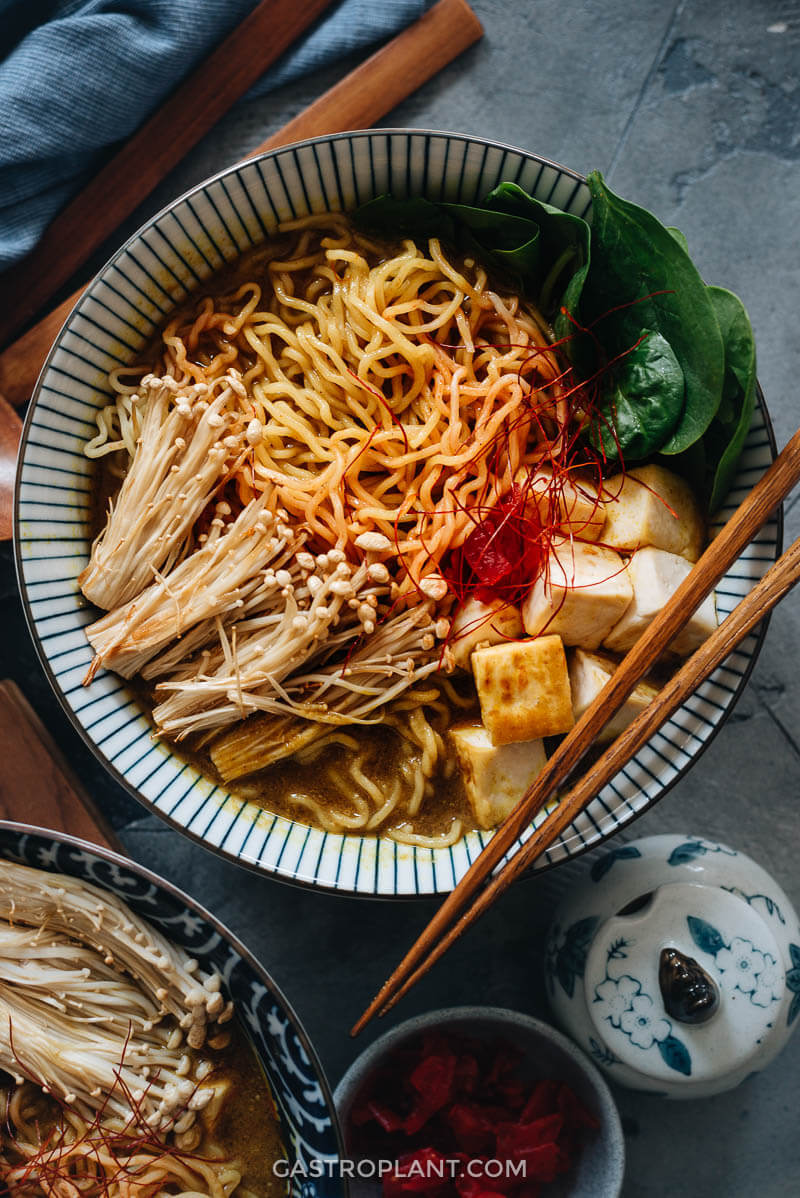 How to Make Vegan Curry Ramen
There are a few stages to this dish but it goes pretty quickly.
Boil the noodles
This is a simple step, but be sure to UNDERCOOK the noodles by about 1 minute. They should be a bit chewier than you'd like. They'll absorb ramen broth and be perfect by the time you start slurping. Drain them and rinse them with cold water so they stop cooking.
If you're handy in the kitchen (or if you have help) you can boil the noodles and make the broth simultaneously.
Get your toppings going
My recommended toppings here can be made in the oven. Cut the tofu and mushrooms and get them baking while you make the broth. Be sure to set a timer so you don't accidentally overcook them.
If you're using a vegan chicken patty, you can bake that as well, though I make mine in the air fryer.
Make the curry roux
This is a French technique where you cook flour and oil (vegan butter, in this case) together to make a sauce- or soup-thickener. We add curry to this process, and it creates this awesome curry soup base. Cooking the curry powder as you make the roux helps enhance the curry flavor.
A side note – I recommend a Japanese curry powder for this recipe for trueness of flavor.
Add dashi and whisk
Once the roux is ready, you mix your vegan dashi (and/or vegetable stock) with the roux to create the broth. Since the flour can create clumps it's important to be thorough here. If you have a whisk that won't scratch your pan, I recommend using it.
Season the broth
There are a few other ingredients I included in the recipe to help round the broth out and enhance the flavors in other directions. Soy sauce, mirin, and nutritional yeast add some saltiness, sweetness, and umami that don't overpower anything but help elevate the curry flavors.
The recipe has an optional splash of plant milk – I use this to make the curry just a little bit creamier.
Assemble the bowls of Vegan Curry Ramen
Here, we're just putting everything together. Combine a serving of noodles with some broth. Add the toppings. Some garnishes that are nice to have for this are fukujinzuke (pickled radish, eggplant, and lotus root) and chili threads. 
I recommend assembling the bowls right when you're ready to eat. The textures and flavors will be the best this way.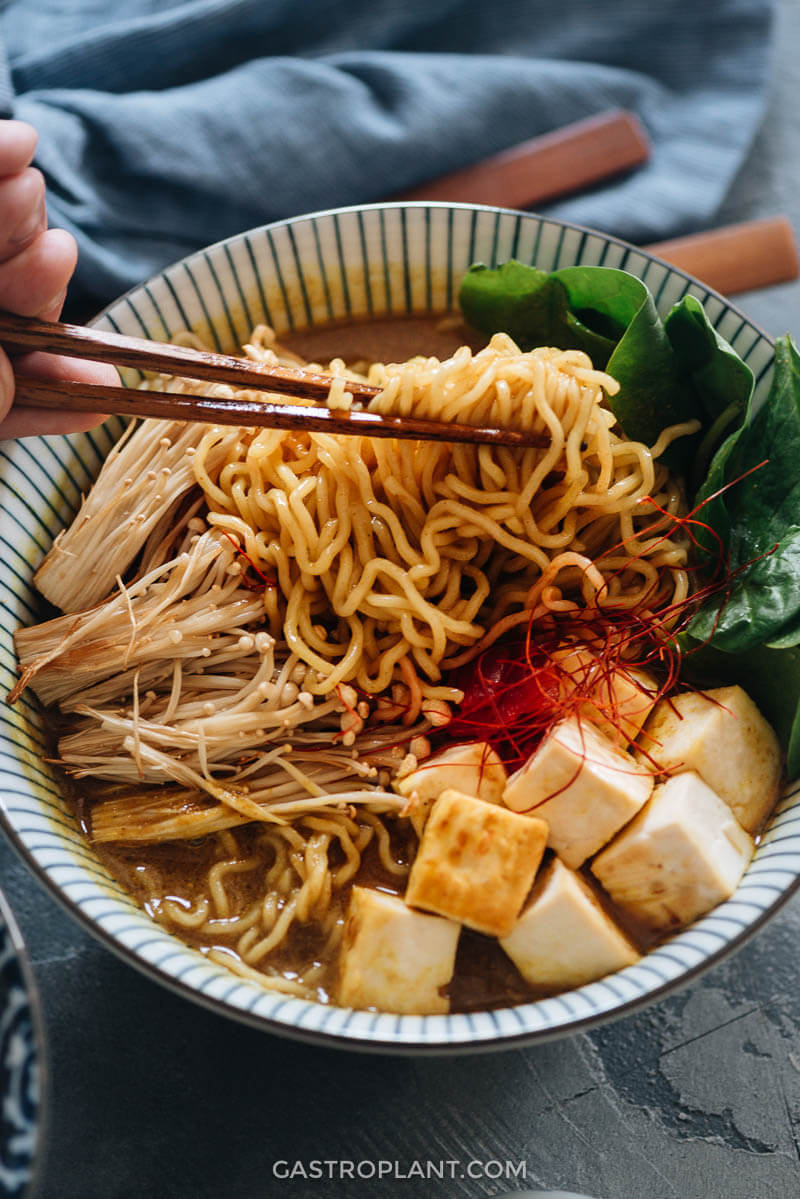 Plant-Based Appetizers and Sides to Go With
A Few Other Vegan Ramen Recipes to Choose From
As always, if you try this recipe out, let me know! Leave a comment, rate it (once you've tried it), and take a picture and tag it @gastroplant on Instagram! I'd love to see what you come up with.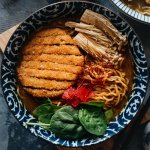 Print Recipe
Vegan Curry Ramen
Rich and fragrant Japanese-inspired curry broth with a hint of spice. Includes baked tofu, roasted enoki mushrooms, and fresh spinach. Takes just 30 minutes.
Ingredients
2

servings fresh ramen noodles

can use frozen or dried as well
Suggested toppings
5

ounces

enoki mushrooms

(140 grams) separated into pieces with root ends trimmed

10

ounces

medium-firm tofu

(280 grams) cut into cubes

2

frozen vegan chicken sandwich patties

optional

2

handfuls raw spinach

washed and trimmed
Broth
3

Tablespoons

plant-based butter

3

Tablespoons

Japanese curry powder

1

Tablespoon

all-purpose flour

1

cup

vegan dashi

2

cups

vegetable stock

plus up to 1 additional cup, can replace with dashi (see notes)

2

Tablespoons

soy sauce

1

Tablespoon

mirin

2

Tablespoons

nutritional yeast

2

Tablespoons

plant milk

optional
Instructions
Boil the noodles
Follow the instructions on the package of noodles to cook them. Cook them for about 1 minute less than instructed. (The noodles may be slightly tough.) Drain and rinse the noodles with cold water to stop the cooking and set them aside.
Cook the suggested toppings
Preheat the oven to 450 degrees F (230 degrees C). Prepare a parchment- or foil-lined baking sheet and place the tofu, mushrooms, and vegan patties (if usinonto it. Bake until each item is satisfactorily cooked, about 20 minutes. The patties may need less than 20 minutes - check the package and be sure to remove the patties earlier if so, flipping as needed.
Prepare the broth
Heat the plant-based butter in a large nonstick skillet over medium heat. When the butter has melted, stir in the curry powder. Mix the curry thoroughly with the butter, stirring for the next 2 minutes or so. Add the flour, continuing to stir, until the flour is lightly toasted (the color of the mixture will be slightly darker), another 2-3 minutes.

Add the dashi and 2 cups of the vegetable stock. Stir very thoroughly with a pair of chopsticks or non-scratching whisk, until the consistency is smooth.

When the mixture returns to a boil, add the soy sauce, mirin, nutritional yeast, and plant milk (if using). Stir again.

Cover, turn to low heat, and let simmer for 5 minutes. If you need to keep the broth warm for longer and the broth thickens, you can stir in some of the reserved vegetable stock to thin it out.
Assemble the bowls
Place a serving of noodles and toppings into each bowl. Carefully serve the broth into each bowl, placing a garnish on top. Serve immediately.
Notes
You can cook the noodles, toppings, and broth simultaneously to save time. It is helpful (but not totally necessary) to have another person to help you.
You'll need about 3 cups of liquid, maybe slightly more. This can be any combination of vegan dashi and vegetable stock. I recommend at least one cup of dashi because of the great impact it has on the overall flavor.
You can make the broth in advance and store it in the fridge or freezer. You may need to whisk it again to get it smooth. If it separates, once its heated up, stir in an ice cube (this trick to recombine the broth usually works for me). Stir in vegetable stock or dashi to thin it to your desired consistency.
Don't worry if you can't find these garnishes. They are fairly specialized and the dish is great even without them.