The Vegan Soy Milk Hot Pot (Tonyu Nabe) is a deeply comforting and nourishing pot of creamy, umami broth with assorted veggies, mushrooms, and tofu. It's easy, fairly quick to make, and versatile.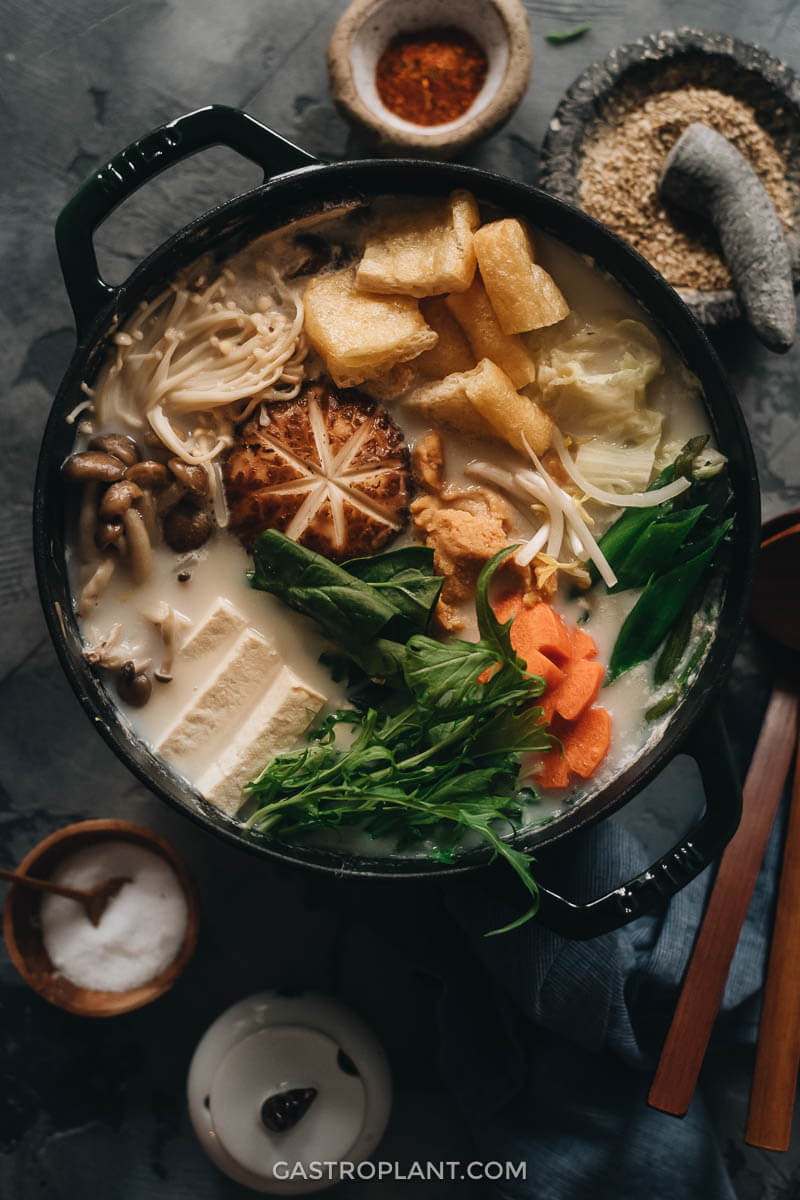 What is Nabe?
If you're unfamiliar, nabe is a style of Japanese hot pot where you prepare a tasty broth, add all your raw ingredients into it, then bring it to a boil, ideally on a hot plate on your dining table.
Pretty soon, you'll have a steaming pot of goodness that you and your dining companions can serve yourselves from as you eat. The soup stays hot to the last drop and it's one of the most comforting meals on a cool day.
And Tonyu Nabe?
Tonyu nabe is a type of nabe that features a light and creamy, yet very flavorful broth made from soymilk. It doesn't have to be vegan necessarily, but this one is.
I first encountered Tonyu Nabe at Azasu, a restaurant in New York that specializes in nabe. It was a recommendation from instagrammer @veganeatsnyc (which I highly recommend following if you live in or ever visit New York City).
Azasu is sumo-themed, as nabe is known as a dish that sumo wrestlers eat to bulk up. Not only is it filling but it has all kinds of nutrition and hydration as well. You'll feel more satisfied than stuffed, since most of the ingredients are pretty light – think mushrooms, cabbage, daikon, and tofu.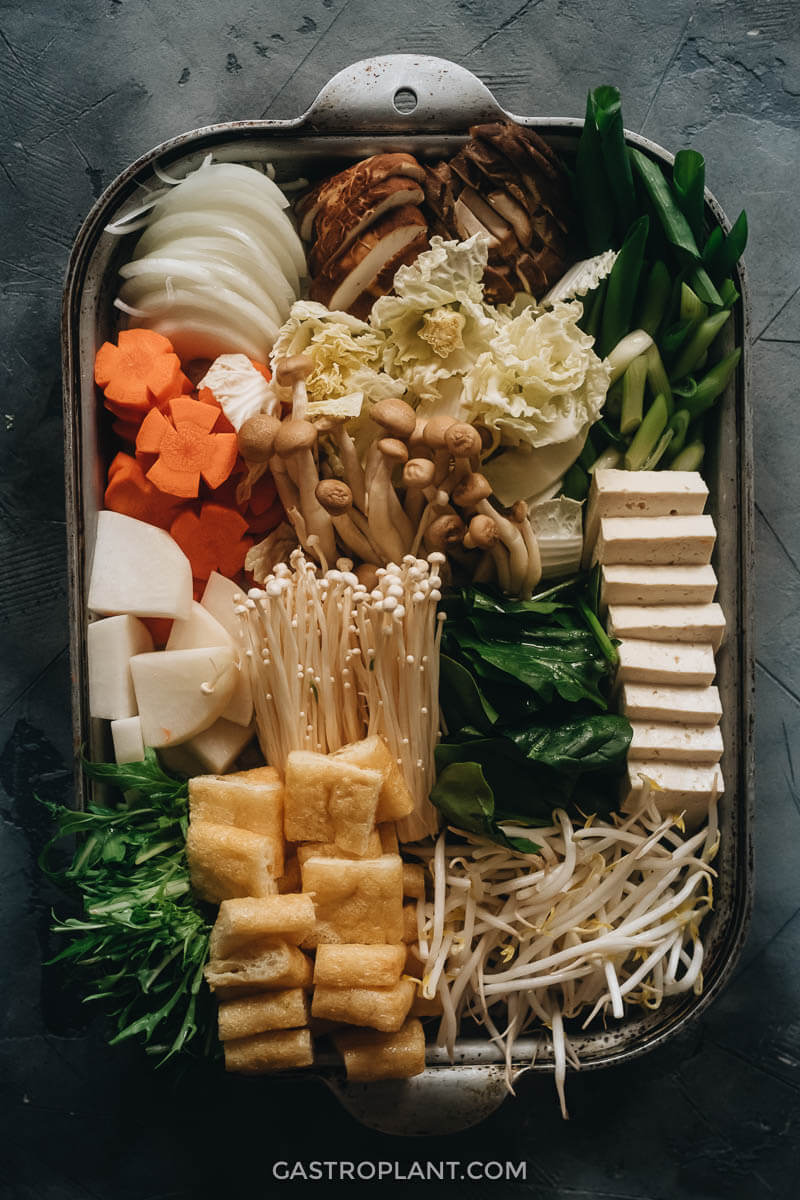 Creating my own Tonyu Nabe
After that first pot of tonyu nabe at Azasu on a freezing December day, I was ready to recreate the experience at home since it's so warming and comforting.
I went with the full-vegan theme and cross-referenced the broth with a non-vegan one at Just One Cookbook (an amazing resource for cooking any kind of Japanese food at home).
When I developed the recipe, I tested it no fewer than nine times to get an idea of the right ratios and what ingredients work in it. In the end, I went with a pretty traditional combo of ingredients, but you'll find a list of lots of substitutions below.
The soy milk hot pot broth is light yet super flavorful
The broth is the most essential part of the recipe. The foundation – shiitake mushrooms and kombu seaweed taste like the earth and the sea. These combine for a dashi-style broth that really strengthens all the other flavors.
Together with the green onion, the shiitake mushroom creates a subtle but very full and round flavor and fragrance.
The soymilk gives a creamy texture but doesn't lend too much beany flavor.
And my favorite ingredient – miso – gives the soup a fantastic malty umami. I recommend stirring this in at the end, to preserve its macrobiotic properties. And you can add as much as you need to reach your preferred saltiness level.
Add your favorite ingredients to Soy Milk Hot Pot
One of the best things about this soup is that you can add pretty much anything to it. Here are some of the possibilities:
Hard root veggies and squashes (you'll want to cut these small and cook them long so they become tender in 10-15 minutes) – carrots, potatoes, sweet potatoes, winter squash, daikon radish, gobo (burdock), taro, and winter melon.
Mushrooms – they'll need at least 5 minutes of simmering. Whether white, brown, shiitake, oyster, king oyster, enoki, shimeji, or wood ear, you can't go wrong.
Green veggies – they cook quickly – depending on the type, between 20 seconds and 5 minutes. Napa cabbage, broccoli, broccolini, (baby) bok choy, spinach, mizuna, kale, collards, and zucchini – all tasty.
Other Asian veggies – bamboo shoots, water chestnuts, baby corn, green jackfruit or any other fun-textured veggie you can think of.
Noodles and dumplings – sweet potato noodles, rice noodles, udon, soba, ramen and somen are all great. I also really enjoy adding frozen veggie dumplings. You can even add gyoza (dumpling) wrappers by themselves – they'll be soft and interestingly chewy.
Tofu – regular medium-firm or firm tofu is nice and filling, but my favorite is aburaage, which has an addictive "fried" taste. Tofu skin (yuba), tofu sausage, or other types of tofu are also great.
My favorite way to make it
If you're shopping for ingredients, it's easy to buy tons of veggies only to realize you can't fit them all in the pot. If you're looking for the most minimal (yet still really delicious) set of ingredients to use, I'd go with the following:
Green onion, shiitake, and aburaage will give the broth an amazing aroma.
Napa cabbage and daikon radish will add a pleasantly filling and nourishing base. You can use lots of these.
Enoki or shimeji mushrooms – they both have a really fun texture and mild almost-seafoody flavor.
Spinach is full of nutrients and cooks practically instantly.
Some kind of noodle is also a good idea if you want the meal a bit more filling.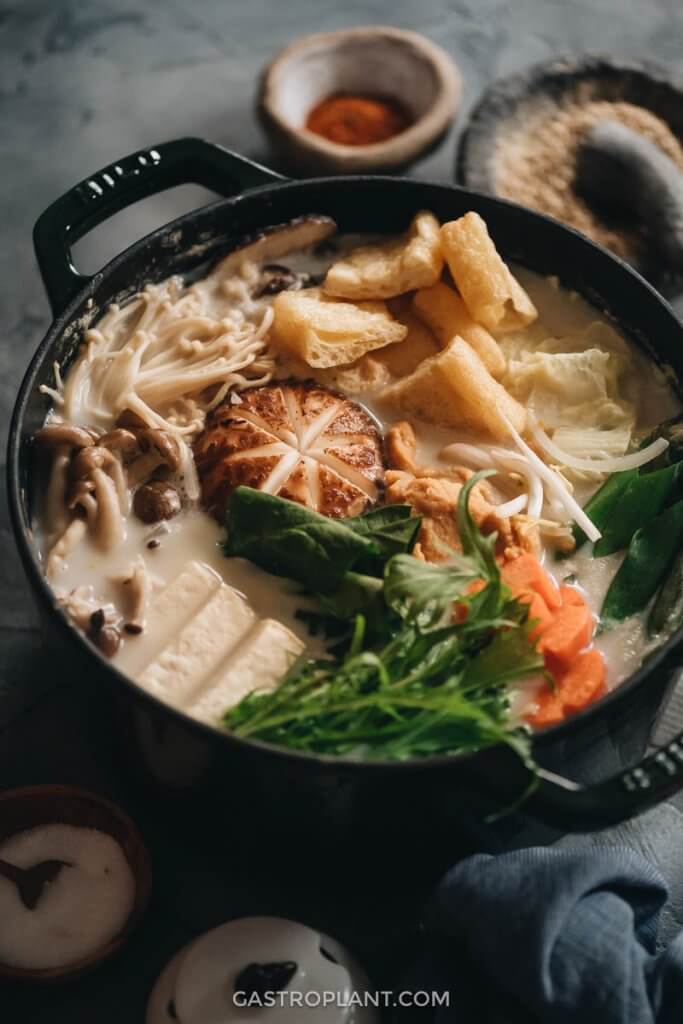 More Japanese-Inspired Plant-Based Comforts
More Epic Veggie Soups
Print Recipe
Vegan Soy Milk Hot Pot (Tonyu Nabe)
The Vegan Soy Milk Hot Pot (Tonyu Nabe) is a deeply comforting and nourishing pot of creamy, umami broth with assorted veggies, mushrooms, and tofu. It's easy, fairly quick to make, and versatile.
Ingredients
Broth
2

cups

soymilk

unsweetened and unflavored (see note)

4

cups

water

1

piece

kombu

2×2 inches or 5×5 centimeters

2-3

large shiitake mushrooms

sliced thinly (see note)

1/2

cup

sake

3

Tablespoons

white miso

can add 1 more, depending on taste (see note)
Category 1 Ingredients
1

cup

carrot

sliced

1

cup

daikon radish

sliced

1/2

cup

white onion

sliced
Category 2 Ingredients
1/2

pound

enoki and/or shimeji mushrooms

separated into bite-sized clusters

1.5

cups

napa cabbage

chopped (see note)

1.5

cups

bean sprouts

(see note)

1/4

pound

dried glass noodles

(125 grams) can be made from rice, bean starch, sweet potato starch, etc.
Category 3 Ingredients
3

sheets

aburaage (fried tofu)

sliced

3

green onions

sliced
Category 4 Ingredients
1

cup

mizuna

(optional) chopped

1

cup

spinach
Garnishes to serve with
shichimi togarashi

(optional)

ground toasted sesame seeds

(optional)
Instructions
Assemble the broth
Combine all the ingredients for the broth except for the miso (see note) in a large pot. Bring to a boil over medium-high heat. Reduce to a simmer and simmer for at least 10 minutes before adding the Category 1 Ingredients.

You can prepare the rest of the ingredients as the broth simmers, but check on the broth and stir it occasionally.
Add in the ingredients in order (See note)
Once the broth has simmered for at least 10 minutes, gently add the Category 1 Ingredients into the broth and turn to medium-high heat. Once the broth reaches a simmer, cook for 5 minutes before adding the Category 2 Ingredients.

Once the broth returns to a simmer again, add the Category 3 ingredients.

After the Category 3 ingredients have simmered for about 2 minutes, add the Category 4s. Add the 4s right before serving
Stir in the Miso
Don't forget to stir in the miso if you haven't already. Hold it in a ladle then dip the ladle partway into the broth and whisk the miso into the broth using a fork or pair of chopsticks before stirring it into the rest of the soup.
Serve and Garnish
Dish the soup with some ingredients into bowls. Serve with shichimi togarashi and ground toasted sesame seeds and let each diner garnish her own bowl.
Notes
A soy milk that contains only soybeans (as an ingredient) is best, if you can find it. I've found Japanese brands are more likely to be this way.
It's important to slice most of the shiitake mushrooms thinly, so their flavor is infused more effectively into the broth. You can choose to keep one cap whole (remove the stem), cut a design into it, and let it float on top, as I did in the photos.
You can either mix the miso into the broth from the beginning or add it at the end. I prefer to add it to the end, right before serving, since doing so helps preserve the macrobiotic properties of the paste and because I like to tweak the broth by adding slightly more miso at the end to make the soup saltier.
I use napa cabbage and bean sprouts as a sort of "filler" in the soup. If I have space remaining in the soup, I'll add more of them because I frequently have too much of them to begin with and because they're healthy and low in calories. Like free nutrition.
I included an "order" for adding the veggies to the broth to ensure each one is cooked but not overcooked, but you don't have to do it this way. If you want to be hands-off, you can add everything at once, at the point you'd add Category 1, and make sure everything simmers for 15 minutes before serving.
The broth may curdle at some point. You can either skim the curds and discard them or simply consume them with the broth.